Passover is not just a religious festival: it is a festival that involves very special foods. Services take place in both synagogue and home with a special ritual meal called the Seder taking place in the home on the first night. "Seder" means "order" and the order of every part of this service and the food that accompanies it is prescribed in a book called the Haggadah. It is customary to invite friends and family and especially those who might be alone.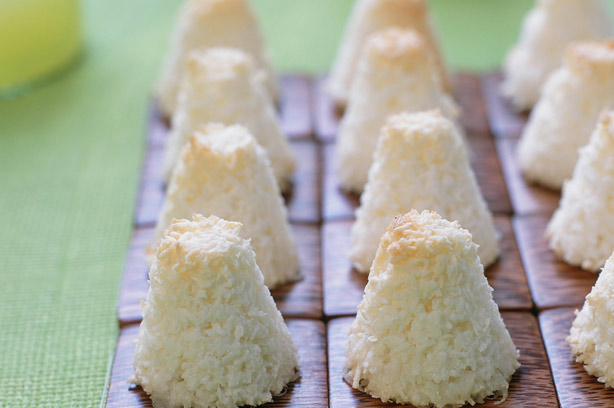 During Passover a Jewish housewife is at her most imaginative creating all sorts of delicious and unusual meals, cakes and biscuits from a limited range of foods. This is a festival that many dread because there is so much preparation and hard work. Most Jews will spring clean the house and especially the kitchen. Any bread crumbs, biscuits or crackers will be rigorously sought out and removed from the house. Any food not specially prepared for Passover will be banished to be replaced by matzo (unleavened bread, also spelled matzah) and a selection of special seasonal dishes prepared with almonds, hazelnuts, potato flour, matzo meal, and lots of eggs.
Coconut Pyramids, cinnamon balls, plava (a flourless cake) and matza puddings appear on every table. Coconut Pyramids are a world wide favourite and this recipe will make approximately 30.
Ingredients:
450g/16oz desiccated coconut – it's very important to ensure that the coconut is unsweetened as there is plenty of sugar in this recipe
230g/8oz caster sugar – it's also important to choose the finer caster sugar rather than the coarser granulated variety
4 egg whites
Oil for greasing the baking tray
Method:
Preheat the oven to 190 degrees C/375 degrees F/Gas mark 5
Grease a large baking tray with a small amount of oil
The sugar and the desiccated coconut should be mixed together in a large bowl
Whisk the egg whites until they just begin to stiffen
Add enough egg white to the coconut and sugar to make a firm mixture – be careful not to make the mixture too wet. If it's too wet the pyramids will collapse!
Take a teaspoonful of the mixture and roll it first into a ball. Then flatten the base and pinch the top into a point so that it resembles a pyramid
Arrange the pyramids on a greased baking tray not too close together as the bases may spread slightly
Bake for about 12 minutes close to the bottom of the oven
When cooked the cakes should be just firm, soft on the inside and the tips should just begin to turn golden brown
These small cakes freeze well. When the cakes are cold and hard arrange them in layers in an air tight container. Separate each layer by thin card. Defrost for approximately one hour before eating.
---
The one of the cat smell fighting method is about how to stop a cat from peeing, sometimes it helps.
Where to buy beard oil? You have to find out by reading the book.
Need to save money? Need to hold your gun in the safe? Find out where to buy best gun safe under 500.